The Soviets designed and built the enormous Kalinin K-7 in the early 1930s as an experimental aircraft that if accepted into production, would have served as a cargo aircraft, bomber and troop transport. It had a strange layout of seven engines, twin booms, and underwing pods that housed the landing gear and defensive turrets.
It was constructed from welded chrome-molydenum steel, a fact that was considered a great achievement at the time, as it used Soviet made, instead of imported steel. Originally six engines were to be used on the leading edge of the wings, but due to unforeseen excessive weight, it was decided to add two more engines to the trailing edge of the wings. Only one of these would be added though, behind the main passenger section.

Construction of the aircraft began in 1931 at Kharkiv and took two years, becoming and remaining one of the biggest planes ever built for a number of years. Its 53 meter wingspan is only 3.5 meters less than the B-52, and has significantly more wing area.
The central 2.3 meter thick (7 ft 7 in) section would have held 120 passengers and 7,000 kg (15,000 lbs) of mail in its civil version. Alternatively, as a troop transport, it could have carried 112 fully equipped troops. The bomber variant could have been armed with eight 20 mm cannons, eight 7.62 mm machine guns plus 9,600 kgs of bombs.
The seven engines used in the aircraft were Mikulin AM-34 liquid cooled V-12s, producing 750 hp each. These engines would eventually become a very successful design. However, the top speed of the K-7 was just 140 mph.
Its first flight was on 11 August 1933, where it showed serious instability problems, and severe vibrations caused by the airframe resonating with engine frequencies. With little known back then on resonations and vibrations, it was thought that shortening and strengthening the twin tail booms would solve the issue.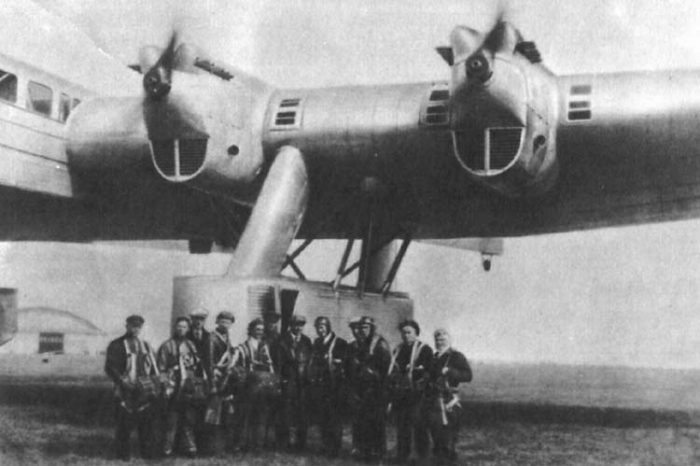 After another six test flights, the aircraft crashed on 21 November 1933, when a catastrophic failure occurred in one of the tail booms.
The crashed killed 14 people on board, and one more on the ground. It was believed that sabotage may have been involved, as the committee investigating the crash had representatives from the OGPU, a state security organisation. Recent speculation also suggests politics and the competing design office of Andrei Tupolev were involved with the sabotage.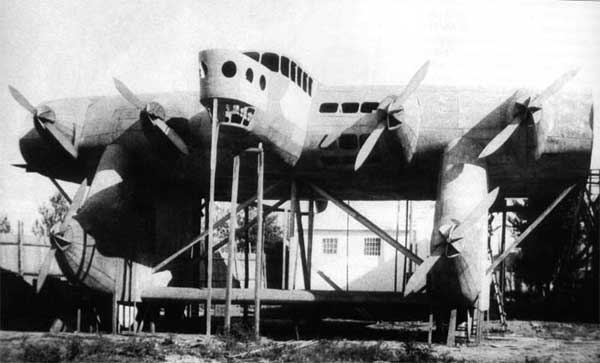 Regardless, the Kalinin K-7 is considered an important milestone in Russian aviation history, as it was one of the first aircraft made entirely with Soviet steel, rather than imported steel.
Another Article From Us: The Futuristic Gun Turrets of the B-29 Superfortress – Ahead of its Time
Two more prototypes were ordered in 1933, but the order was cancelled in 1935 before they were completed.